Xin Inventory 2.0  comes with range of quotation templates, invoice templates, purchase order template (PO template), delivery note template / packing slip template, receipt template, credit note templates and customer statement templates  with or without signature and company logo. User can choose the suitable template for their business used.
User can upload business information like business logo, business name, business address, business phone, fax and email into the system and it will be displayed professionally in templates.
Xin Inventory 2.0 comes with template editor which provide flexibility for the user to edit the invoice template according to their business needs.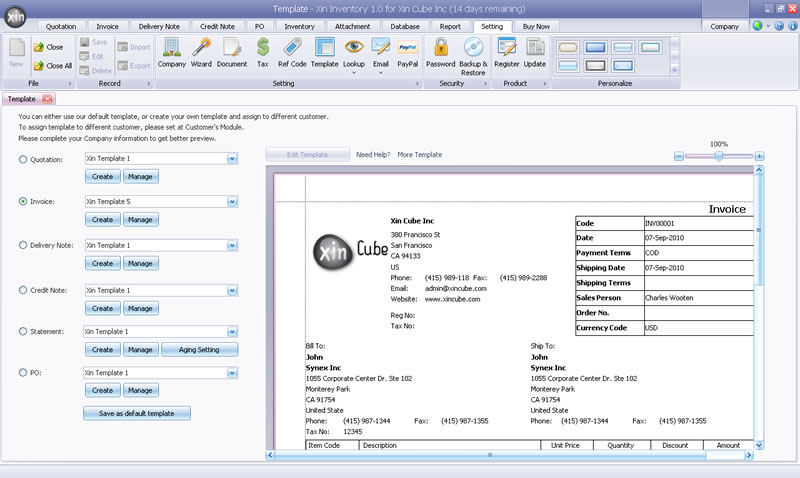 Template Customization Service
We do provide template customization service. Please contact our support team to know more.
Let's check what our customer said about Xin Inventory template customization
"Seems to work okay after I finally got a template created. Actually, it's a pretty decent program for the money!"
"I tested various quoting and invoicing solutions and was not impressed with any of them until I found yours. I am beyond impressed with your software.it's AWESOME! I highly recommend people download the trial and give it a shot."
"I searched for a long time to find software that would keep track of inventory along with customers and invoicing. I had Quick Books for many years and was terribly dissapointed in it. Xin was the only soft ware that had all the features I needed! I downloaded it easily, added my inventory and customer info and …bam..ready to go!
The only thing that has given me troble is customizing the invoice template. But Customer Service is fast and helpful…so I would give Xin a complete thumbs up!"
"Xin Invoice has so far been a very simple, easy-to-use program that has allowed me to get done what I need to get done. I was able to easily integrate my e-mail into it, and the templates were a snap to set up. Much better so far than the now-defunct Microsoft Office Accounting."
"After reaching the limits of Excel, I scanned the software reviews for an application better-suited to my expanding client- and invoice-tracking needs. I certainly found that in Xin Cube's Invoice 3.0! The program is affordable, flexible, and yet rigorous enough to meet my expectations as a small business owner. I especially like the built-in template designer, which made it possible to match the specific billing language of the writing industry and my jurisdiction. Thank you very much for this product. Keep up the good work!"
"Great program! Very flexible and adaptable to personal preferences thanks to the template editor."
"I was looking for a software to generate quick and nice invoices for my company. i tried so many but it was just a wasted time doing that. at the end of the night i came across with Xin… well i downloaded it "trial version" and just with the first window showed up. i knew that this is exactly what i need. just Simple and EASY!! believe just easy. customers, quoatations, invoices, so easy to use and set in minutes. Nice templates. Just awesome. I´m from colombia and i sent a mail to xin support asking for spanish version after that they contacted me back saying if i could translate it to spanish! and i did! now i have my Xin invoice in spanish just awesome!
Thanks so much for you Free License. Thanks God bless you Eliz!"
"First rate software! Easy to use, highly configurable templates and a responsive support team who act on your issues/suggestions. I've tried dozens of programs where you have to accept a compromise somewhere, but Xin Invoice is awesome!"